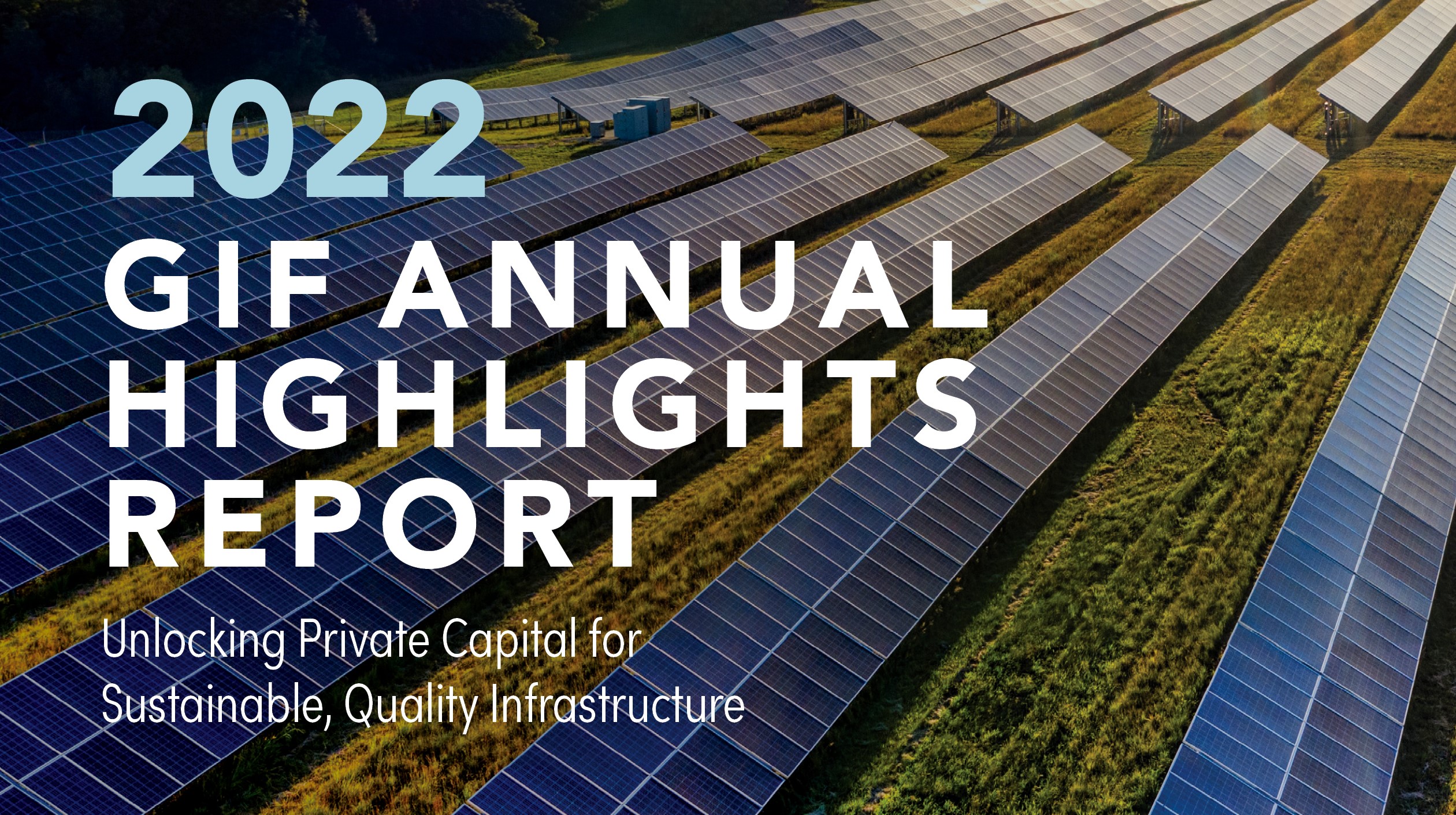 A Growing Portfolio and Increasing Impact
The FY22 GIF Annual Highlights Report demonstrates a steady demand for the GIF's finance and project preparation support despite global uncertainties. Throughout its eight sections, the report underscores the GIF's advancements as a mature global facility and highlights its FY22 operational activities, expected impacts, and partnership engagements.
In FY22, the GIF extended its support with $19 million in approved funding to 25 new project activities across 21 countries.  Since its inception in 2014, the GIF has approved 138 advisory activities in 62 countries and reached 16 commercial closings, of which 9 also reached financial close. Over $6.9 billion in private capital is expected to be mobilized. 
By bringing to market sustainable, quality infrastructure projects and expanding the market for private infrastructure finance, the GIF is mobilizing private capital and delivering infrastructure services to more people in emerging markets.
Messages from the GIF Co-Chairs
 
MARI PANGESTU 
GIF Advisory Council Co-Chair and Managing Director of Development Policy & Partnerships, World Bank
In a world facing multiple overlapping crises, global cooperation is more important than ever. GIF enables collective action across a wide range of partners—including governments, MDBs, private investors, and other infrastructure stakeholders—promoting sustainable and quality infrastructure financing solutions that mobilize private capital in EMDEs. It plays an essential role in the sustainable infrastructure ecosystem by preparing pipelines of bankable, climate-smart infrastructure projects, supporting overall efforts by the World Bank Group to help countries achieve green, resilient, and inclusive development.
DANIEL ZELIKOW 
Vice Chairman, Global Head of Public Sector, J.P. Morgan
Project development is a critical need in mobilizing finance for infrastructure provision at scale in emerging markets and developing economies. As Co-Chair of the GIF's Advisory Council, I can see the GIF's comparative advantage and success in bringing bankable projects to market. We at J.P. Morgan are keen supporters of the GIF's role in the infrastructure finance eco-system and want to see this role expanded.
ADAM SPARRE SPLIID 
Co-Chair of the GIF's Governing Council and Deputy Head of Department for Green Diplomacy and Climate, Ministry of Foreign Affairs, Denmark
The parallel global crises affecting energy, food security, and finance have underlined the continued relevance of the Global Infrastructure Facility. To address these challenges, we must close the global sustainable infrastructure gap and combine it with urgent climate action. Massive investments in resilient, low-carbon, and climate-smart infrastructure will mitigate more frequent and extreme weather events. It will also reduce carbon emission levels, dependence on fossil fuels, and increase energy security, especially in emerging markets and developing countries. We look forward to partnering with the GIF on this important work as the need for climate-resilient infrastructure increases.
IMAD FAKHOURY 
GIF Governing Council Co-Chair and Director, Infrastructure Finance, PPPs & Guarantees, World Bank
As the GIF closes its second year of post-pilot operations, the World Bank, as an initial funding and technical partner, is pleased to have supported and benefited from its growth into a fully established and globally recognized facility. Despite COVID-19 and global uncertainties, the GIF has steadily provided project preparation upstream support to help mobilize private capital in emerging markets and developing economies for sustainable and quality infrastructure. The World Bank recognizes that from FY18 to FY22, the GIF supported 12 World Bank projects that contributed to 15 percent of the World Bank's (IBRD/IDA) private capital mobilization. The World Bank remains fully committed to its support of the GIF.