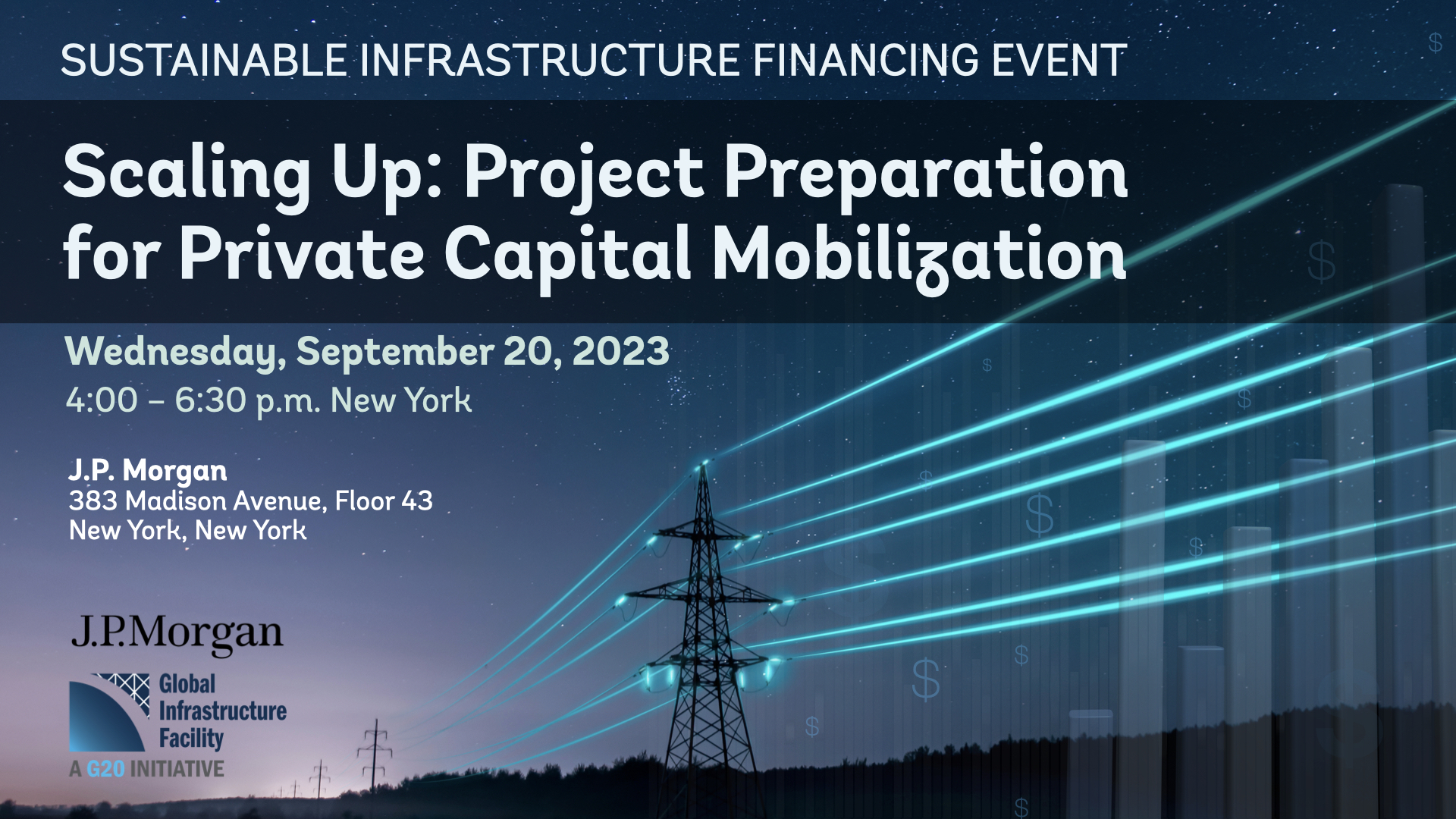 Development delayed is development denied. In some emerging markets and developing economies (EMDEs), 80% of infrastructure projects never advance to the bidding stage, and among those, 10% fail to reach financial close due to inadequate project preparation. Additionally, neglecting factors like resilience, climate considerations, and life cycle costs leads to service disruptions, adding strain to budgets and imposing additional costs on end users. Such delays hinder progress and can even deny the benefits of development altogether.
J.P. Morgan and the Global Infrastructure Facility (GIF) join hands to co-host a high-level, invitation-only event: Scaling Up Project Preparation for Private Capital Mobilization, on September 20, 2023, during New York Climate Week for a strategic discussion on driving climate action through private capital mobilization. The event will feature an important panel discussion amongst the leading institutional investors, project developers, MDB/DFIs, and government decision makers on project development bottlenecks and challenges impeding private financing for climate-smart and resilient infrastructure projects in emerging markets and developing economies.
As the need for energy transition investment surpasses readily available resources, private capital will be essential to bridging the investment gap in EMDEs – a key theme on the road to COP28*. At Scaling Up, J.P. Morgan and the GIF will convene investors, sponsors, multilateral development banks, and government officials to shine a light on the project development bottleneck and scalable efforts underway to alleviate it. The panel discussion and networking reception will facilitate dialogue and collaboration among speakers and guests to identify innovative solutions and unlock the potential of private capital for energy transition investments.
 
SPEAKERS
•    Axel Van Trotsenburg, Senior Managing Director, World Bank
•    Ambassador Majid Al-Suwaidi, COP28 Director-General, UAE
•    Ahmed Saeed, CEO Allied Climate Partners
•    Alexia Latortue, Assistant Secretary for International Trade and Development, US Treasury
•    Astrid Manroth, Head, Global Infrastructure Facility
•    Fuat Savas, Managing Director, J.P. Morgan and Co-Head of the Infrastructure Finance and Advisory (IFA) 
•    Paddy Padmanathan, Co-founder and Vice-Chairman, Zhero

RECOMMENDED READINGS