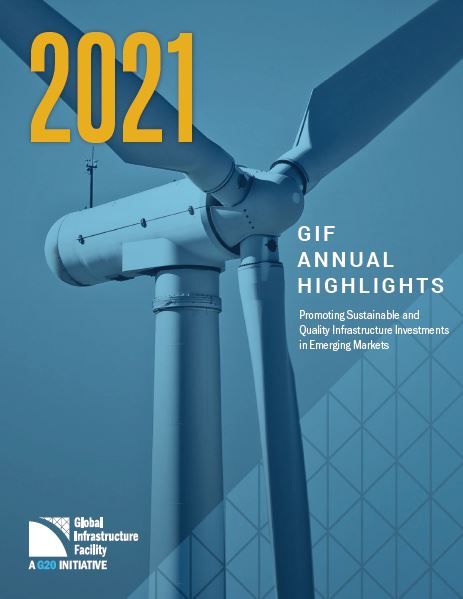 "This 2021 GIF Highlights report reflects growth and durability and demonstrates GIF's role as an essential actor within the infrastructure financing ecosystem."
-- Jason Lu, Head, Global Infrastructure Facility
"As we begin to emerge from the COVID-19 pandemic, infrastructure and the private sector are key to building back better. Sizable investments in low-carbon, climate-resilient infrastructure and global coordination will be needed. Facilities like the GIF are playing a significant role in promoting pipelines of bankable, sustainable infrastructure projects and mobilizing private capital to support initiatives like the Global Investors for Sustainable Development. I'm pleased to be part of GIF's efforts to help developing countries get back on track, and to achieve green, resilient, and inclusive development.
-- Mari Pangestu, GIF Advisory Council Co-Chair and Managing Director of Development Policy & Partnerships, World Bank
"GIF is unique in that it is the only project preparation facility that exclusively focuses on mobilizing private capital. The GIF engages its private sector partners for market soundings and other critical inputs as projects are brought to market to ensure that GIF-supported activities are able to catalyze private investment for infrastructure. JP Morgan looks forward to working with other private sector Advisory Council members to scale up GIF's activities, commensurate with the massive challenges of providing adequate infrastructure to people in the developing world."
-- Daniel Zelikow, GIF Advisory Council Co-Chair and Global Co-Head, Infrastructure Finance & Advisory, and Global Head, Public Sector, J.P. Morgan
"As a founding partner, the World Bank has worked shoulder-to-shoulder with GIF to support its ambitious goal of unlocking billions of dollars in private investments for infrastructure delivery in EMDEs by preparing bankable project pipelines. Fiscal year 2021 marked the first year of GIF's Post-Pilot phase – proof that its vision is solid and market-tested. So far, GIF has mobilized $2.1 billion in private capital, with more than $15 billion in private mobilization expected as closings are reached over the medium term. GIF has contributed significantly to our private capital mobilization target and is also advancing climate-smart initiatives such as the World Bank's Green, Resilient and Inclusive Development (GRID) approach, the G20's QII Principles, and other sustainable infrastructure initiatives. As a donor and technical partner, we know our resources are well-invested in GIF."
-- Imad Fakhoury, GIF Governing Council Co-Chair and Global Director of Infrastructure Finance, PPPs & Guarantees, World Bank
"Infrastructure investment needs to be 'high quality' investment to better respond to the immediate challenges we face, including COVID-19, climate change, gender, digital transformation—as well as longer-term goals. The G20 Principles for Quality Infrastructure Investment (QII) serve as a good reference point. Due consideration should be given to safety, including cybersecurity and data privacy, as well as inclusiveness, openness, sustainability, and governance, among other principles as we move forward. GIF, with its technical partners, is well placed to promote the QII Principles in public-private partnerships and private sector projects in developing countries, and to share the lessons learned through its global platform."
-- Masashi Tanabe, GIF Governing Council Co-Chair (FY21) and Director, Multilateral Development Banks Division, International Bureau, Ministry of Finance, Japan