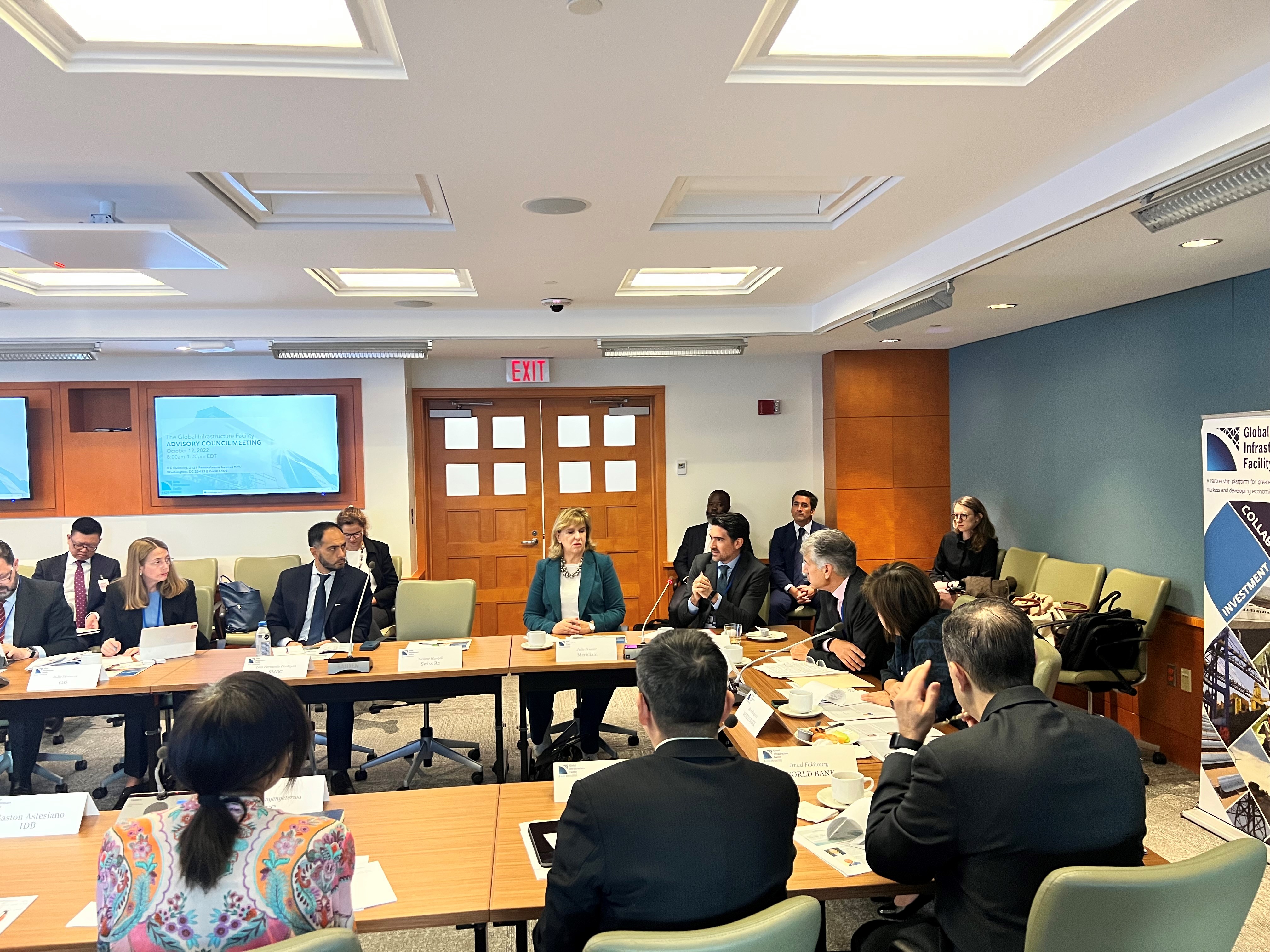 We are pleased to welcome Meridiam as Co-Chair of the Global Infrastructure Facility (GIF) Advisory Council (AC).  The AC—comprised of nearly 60 leading private sector investors and financiers, multilateral development banks, funding partners, and other senior infrastructure leaders—serves as a cornerstone of the GIF's role as a global collaboration platform.  Twice a year, during the World Bank Group and IMF Annual and Spring Meetings, the GIF brings together its network of partners at its AC meetings to showcase specific infrastructure initiatives, and to discuss key challenges, emergent trends, and investment opportunities in the broader infrastructure space.  Meridiam has been an active member of the GIF's AC since its inception and a strong participant in the AC meetings. 
In its role as AC Co-Chair, Meridiam—a global leader in project development and asset management—will provide high level strategic guidance to the GIF, as well as contribute to building knowledge amongst the GIF's key partners.  We look forward to building on our longstanding partnership with Meridiam and working with them on developing strategies and initiatives to reinforce GIF's contribution to the sustainable infrastructure agenda and closing the project development gap.
"We believe that the private sector is at the heart of delivering sustainable infrastructure.  As a global leader, Meridiam has a strong track record of developing and delivering transformational infrastructure.  We look forward to working with Meridiam as GIF's new Advisory Council Co-Chair and learning from their unique approaches and key expertise in developing innovative private sector solutions to build more sustainable and resilient infrastructure in developing countries."
Sebnem Erol Madan, Acting Head, GIF
"At a time of continued global uncertainty but also huge opportunity, the work of the Global Infrastructure Facility has never been needed more, so Meridiam are honoured to Co-Chair the GIF's Advisory Council. Meridiam has extensive experience of delivering sustainable infrastructure in both developed and emerging markets, so we look forward to supporting the GIF in unlocking a vital new pipeline of innovative and investable infrastructure projects to help drive sustainable global growth."
Julia Prescot, Co-Founder, Meridiam
About GIF
The Global Infrastructure Facility (GIF) was established in 2014 as a G20 initiative to address a critical challenge for private investment in infrastructure in EMDEs: a lack of bankable pipelines of sustainable, quality infrastructure investment opportunities that are attractive to private capital. The GIF provides end-to-end, comprehensive advisory services to client governments and multilateral development bank (MDB) partners – through both funding and hands-on technical expertise – to help select, design, and structure infrastructure investments that crowd-in private investment. Our global portfolio supports design, preparation, and structuring across economic infrastructure – energy, water and sanitation, transport, municipal solid waste, and information and communications technology (ICT). It also reflects a focus on the themes of climate-smart, connectivity, and integration, in addition to social infrastructure such as healthcare and education facilities, affordable housing, and other public buildings. Website: www.globalinfrafacility.org/. LinkedIn: Global Infrastructure Facility
About Meridiam
Meridiam was founded in 2005 by Thierry Déau, with the belief that the alignment of interests between the public and private sector can provide critical solutions to the collective needs of communities. Meridiam is an independent investment Benefit Corporation under French law and an asset manager. The firm specializes in the development, financing, and long-term management of sustainable public infrastructure in three core sectors: sustainable mobility, critical public services and innovative low carbon solutions. With offices in Addis Ababa, Amman, Dakar, Istanbul, Johannesburg, Libreville, Luxembourg, New York, Paris, Toronto, and Vienna, Meridiam currently manages US$20 billion and more than 120 projects to date. Meridiam is certified ISO 9001: 2015, Advanced Sustainability Rating by VigeoEiris (Moody's), ISO 37001 Anti-Corruption certification by AFNOR and applies a proprietary methodology in relation to ESG and impact based on United Nations' Sustainable Development Goals (SDGs).
Website: www.meridiam.com. Twitter: Meridiam. LinkedIn: Meridiam. YouTube: Meridiam